Doctor Faustus By Christopher Marlowe Summary and Analysis Scene 7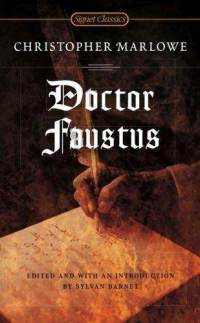 SCENE 7
Enter FAUSTUS and MEPHISTOPHILIS.
FAUSTUS.
Having now, my good Mephistophilis,
Pass'd with delight the stately town of Trier,
Environ'd round with airy mountain-tops,
With walls of flint, and deep-entrenched lakes,
Not to be won by any conquering prince;
From Paris next, coasting the realm of France,
We saw the river Maine fall into Rhine,
Whose banks are set with groves of fruitful vines;
Then up to Naples, rich Campania,
Whose buildings fair and gorgeous to the eye,
The streets straight forth, and pav'd with finest brick,
Quarter the town in four equivalents:
There saw we learned Maro's golden tomb,
The way he cut, an English mile in length,
Thorough a rock of stone, in one night's space;
From thence to Venice, Padua, and the rest,
In one of which a sumptuous temple stands,
That threats the stars with her aspiring top.
Thus hitherto hath Faustus spent his time:
But tell me now what resting-place is this?
Hast thou, as erst I did command,
Conducted me within the walls of Rome?
MEPHISTOPHILIS.
Faustus, I have; and, because we will not be unprovided,
I have taken up his Holiness' privy-chamber for our use.
FAUSTUS.
I hope his Holiness will bid us welcome.
MEPHISTOPHILIS.
Tut, 'tis no matter; man; we'll be bold with his good cheer.
And now, my Faustus, that thou mayst perceive
What Rome containeth to delight thee with,
Know that this city stands upon seven hills
That underprop the groundwork of the same:
Just through the midst runs flowing Tiber's stream
With winding banks that cut it in two parts;
Over the which four stately bridges lean,
That make safe passage to each part of Rome:
Upon the bridge call'd Ponte Angelo
Erected is a castle passing strong,
Within whose walls such store of ordnance are,
And double cannons fram'd of carved brass,
As match the days within one complete year;
Besides the gates, and high pyramides,
Which Julius Caesar brought from Africa.
FAUSTUS.
Now, by the kingdoms of infernal rule,
Of Styx, of Acheron, and the fiery lake
Of ever-burning Phlegethon, I swear
That I do long to see the monuments
And situation of bright-splendent Rome:
Come, therefore, let's away.
MEPHISTOPHILIS.
Nay, Faustus, stay: I know you'd fain see the Pope,
And take some part of holy Peter's feast,
Where thou shalt see a troop of bald-pate friars,
Whose summum bonum is in belly-cheer.
FAUSTUS.
Well, I'm content to compass then some sport,
And by their folly make us merriment.
Then charm me, that I
May be invisible, to do what I please,
Unseen of any whilst I stay in Rome.
[Mephistophilis charms him.]
MEPHISTOPHILIS.
So, Faustus; now
Do what thou wilt, thou shalt not be discern'd.
Sound a Sonnet. Enter the POPE and the CARDINAL OF
LORRAIN to the banquet, with FRIARS attending.
POPE.
My Lord of Lorrain, will't please you draw near?
FAUSTUS.
Fall to, and the devil choke you, an you spare!
POPE.
How now! who's that which spake? — Friars, look about.
FIRST FRIAR.
Here's nobody, if it like your Holiness.
POPE.
My lord, here is a dainty dish was sent me from the Bishop
of Milan.
FAUSTUS.
I thank you, sir.
[Snatches the dish.]
POPE.
How now! who's that which snatched the meat from me? will
no man look? — My lord, this dish was sent me from the Cardinal
of Florence.
FAUSTUS.
You say true; I'll ha't.
[Snatches the dish.]
POPE.
What, again! — My lord, I'll drink to your grace.
FAUSTUS.
I'll pledge your grace.
[Snatches the cup.]
C. OF LOR.
My lord, it may be some ghost, newly crept out of
Purgatory, come to beg a pardon of your Holiness.
POPE.
It may be so. — Friars, prepare a dirge to lay the fury
of this ghost. — Once again, my lord, fall to.
[The POPE crosses himself.]